(Last Updated On: 9 January 2021)
Very often, the very first sentence that I begin with is not the first sentence that I end with. And in the case of The Humbling, it is.

Philip Roth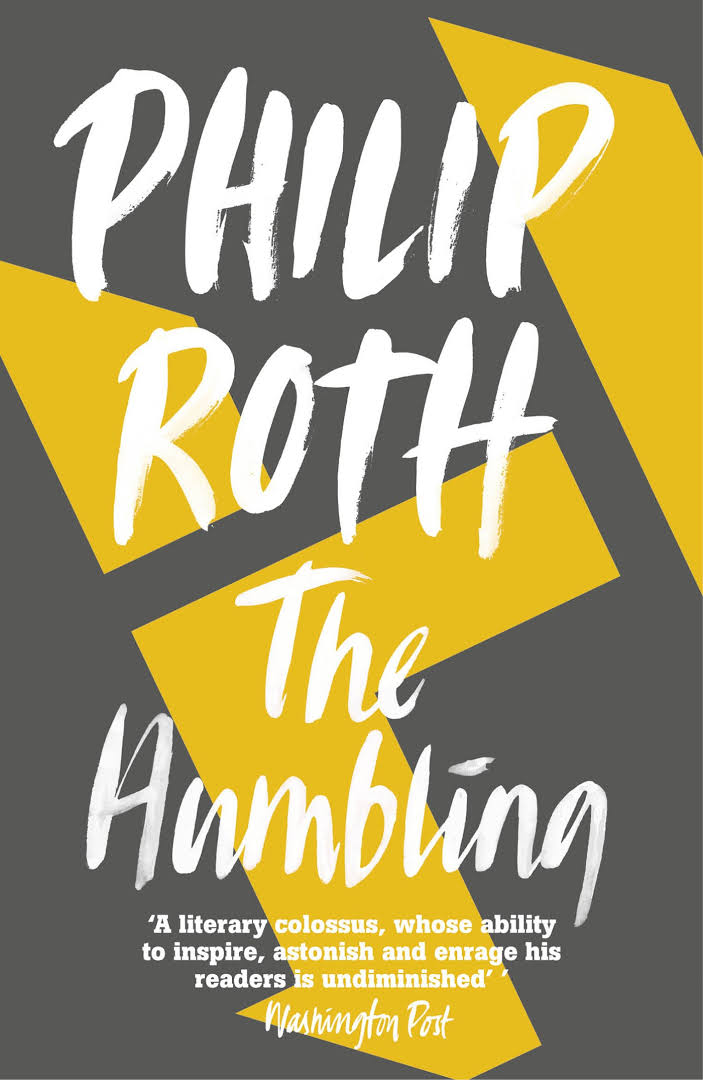 Author: Philip Roth
Title: The Humbling
Publisher: Houghton Mifflin Harcourt
Published: 2009
Page Count: 140
"He'd lost his magic," that's how Philip Roth started The Humbling. Later he said, in an interview, that he'd heard about an actor who couldn't act anymore and so he started from there.
After more than forty years since he'd come to auditions in New York, and after a successful career as a play actor—appearing in movies as well— Simon Axler found himself, at the age of sixty five, unable to do the acting, unable of even memorizing a line or two, unable to be whom he used to be.
Axler felt that now he has become naked in front of the fans and the critics and everyone. He doubted that he had had any talent at all from the start.
The worst of it was that he saw through his breakdown the same way he could see through his acting. The suffering was excruciating and yet he doubted that it was genuine, which made it even worse. He did not know how he was going to get from one minute to the next, his mind fell as though it were melting, he was terrified to be alone, he could not sleep more than two or three hours a night, he scarcely ate, he thought everyday of killing himself with the gun in the attic—a Remington 870 pump-action shotgun that he kept in the isolated farmhouse for self-defense—and still the whole thing seemed to be an act, a bad act.

Philip Roth, The Humbling.
From then onwards, Axler's days were characterized by suffer. And the reader is taken through a tour in the life of Simon Axler as a man and as an actor, as a lover and as a depressive.
In a way, I felt while reading the novel that Roth—and from the beginning —is pushing the protagonist towards one ultimate end: suicide.
ALL AT ONCE Axler was alone in the house in the country and terrified of killing himself. Now there was nothing stopping him. Now he could go ahead and do what he'd found himself unable to do while she was still there: walk up the stairs to the attic, load the gun, put the barrel in his mouth, and reach down with his long arms to pull the trigger. The gun as the sequel to the wife.

Philip Roth, The Humbling.
Though Axler tried to love life the way he used to, tried by giving it one more shot with love and tenderness and intimacy. He tried before that to know at least why he couldn't act anymore by getting psychoanalyzed and spending twenty six days at a psychiatric hospital. He tried and tried and tried; he failed.
There are two main characters that affected Axler's destiny through the novel.
The first is the woman he met at the Kennedy Center while he was there for a twenty Six day psychiatric therapy. Her name is Syvil Van Buren.
At first when they met, Philip Roth clearly notified the reader that the two characters share some similiarities and have some common ground. They approached one another one another, sat down and ate their meals and talked.
Sybil Van Buren opened up to Simon Axler, about what she saw with her own eyes, when one day she came back to pick up something she'd forgotten at home and to her shock and what she discovered her husband had been probably doing to her little sweetheart without her knowing.
And so both, Axler and Van Buren, shared their inability of ending their own suffering.
And then comes Pegeen. Another character that have deeply affected Axler. She was lesbian and twenty five years younger than him. He'd known her and known her parents long before she was even born.
With Pegeen, Axler began to regain some hope. He began to change. And he changed her as well—or so he thought. He bought her new clothes. He led her into getting a new haircut; a more girly one. She moved in to live with him. They jumped into some intimate adventures.
---
---
Even when Pegeen's parents didn't respond well to them being together—they even seemed to accept her being lesbian over being with him; an old depressive actor who couldn't act anymore and whose spinal and mental problems are enough to make any potential partner calculate her long term moves wisely—even then he didn't give a damn, he didn't care. All too well.
All too well till he wakes up one morning and Pegeen decides that it's over. She takes her stuff from the room that she had rearranged for herself in his farmhouse. The rest is for you to discover on your own! Buy the novel.
---
If you enjoyed reading this post, you can support my work by buying me a book.