In 2023, medical tourism in Asia continues to thrive, offering world-class healthcare at competitive prices. In this blog post, we'll explore six standout hospitals in Asia that have gained recognition for their exceptional medical services and cutting-edge treatments. From advanced surgical procedures to holistic wellness programs, these institutions have become top choices for international patients seeking quality healthcare and unique cultural experiences.
1. Gleneagles Hospital Kuala Lumpur: Delivering Excellence in Healthcare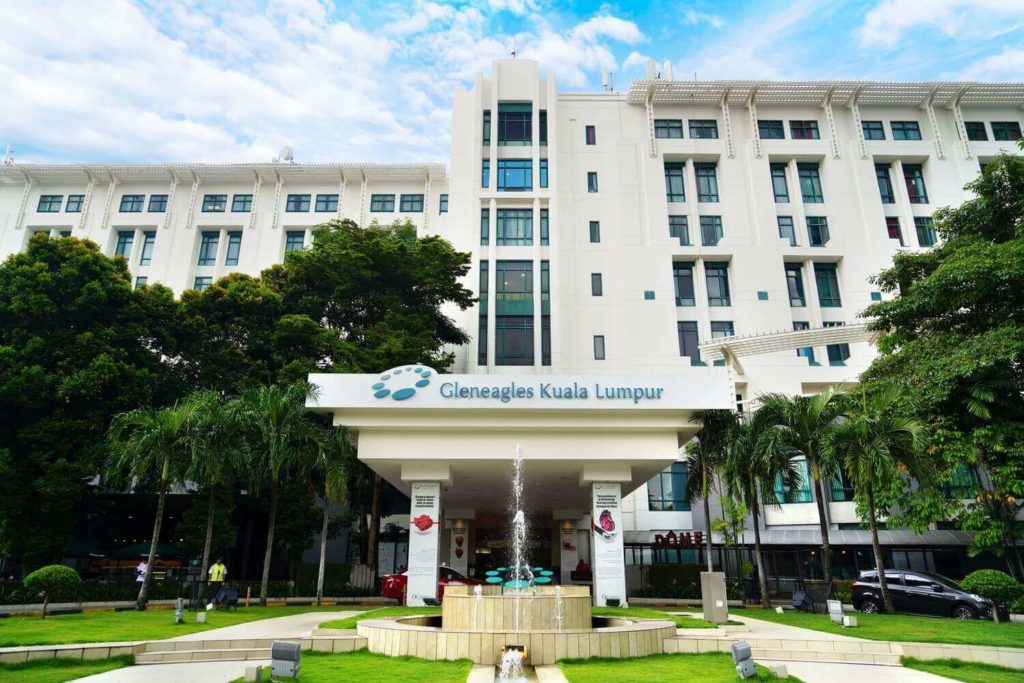 Gleneagles Hospital Kuala Lumpur, situated in the heart of Kuala Lumpur, Malaysia, has been a trusted name in healthcare since its establishment in 1996. Over the years, it has built a strong reputation for delivering exceptional patient care and maintaining a track record of excellent clinical outcomes. As a prominent healthcare service provider, not only in Malaysia but also within the Southeast Asian region, the hospital is dedicated to continuous improvement and investments in state-of-the-art technology to ensure the provision of safe and high-quality healthcare services for both local and international patients.
Infrastructure and Facilities:
Gleneagles Hospital Kuala Lumpur boasts 376 licensed beds, providing a comprehensive range of medical services to meet the diverse healthcare needs of its patients.
The hospital is supported by a team of over 200 healthcare professionals, including experienced doctors, nurses, and support staff, who are committed to delivering top-notch medical care.
With a focus on excellence, the hospital covers 21 medical specialties, ensuring that patients receive specialized treatment tailored to their specific health conditions.
To facilitate medical procedures and surgeries, the hospital is equipped with nine operating theaters, each designed to meet the highest standards of safety and efficiency.
Certifications:
The hospital is recognized as Baby Friendly Certified, reflecting its commitment to providing optimal care for newborns and new mothers.
Additionally, Gleneagles Hospital Kuala Lumpur is Halal Certified for its food and beverages, ensuring that dietary preferences and religious requirements are met.
Notable Achievements and Awards:
Gleneagles Hospital Kuala Lumpur received the prestigious "International Hospital of The Year" award from the International Medical Travel Journal in 2018, underscoring its commitment to excellence in healthcare.
In 2015, the hospital was honored with the "Excellence in Customer Service" award at the International Medical Travel Journal Medical Travel Awards, coinciding with Malaysia's recognition as a Medical Travel Destination of the Year.
Community Engagement and Outreach:
The hospital actively engages with the community through various initiatives. It sponsors children's heart surgery through the Society for the Sabah Heart Fund, demonstrating its commitment to addressing critical healthcare needs.
Gleneagles Hospital Kuala Lumpur is involved in the Pink Pit Stop Breast Cancer Awareness campaign, advocating for breast cancer awareness by setting up stalls in local shopping malls.
The hospital supports the government's proposal to provide free nutritious breakfast to underprivileged children, contributing to the well-being of the local community.
Expansion and Modernization:
In 2015, the hospital embarked on a significant expansion effort by opening a new annexe, a nine-story building adjacent to the main facility. This expansion reflects the hospital's commitment to staying at the forefront of healthcare infrastructure and technology.
Gleneagles Hospital Kuala Lumpur is a beacon of excellence in healthcare, with a strong focus on patient care, clinical excellence, and community engagement. Its commitment to continuous improvement, investment in technology, and dedication to patient satisfaction have earned it numerous accolades and a respected place within the healthcare industry, making it a preferred destination for those seeking world-class medical treatment in Malaysia.
2. St. Luke's Medical Center, Quezon City, The Philippines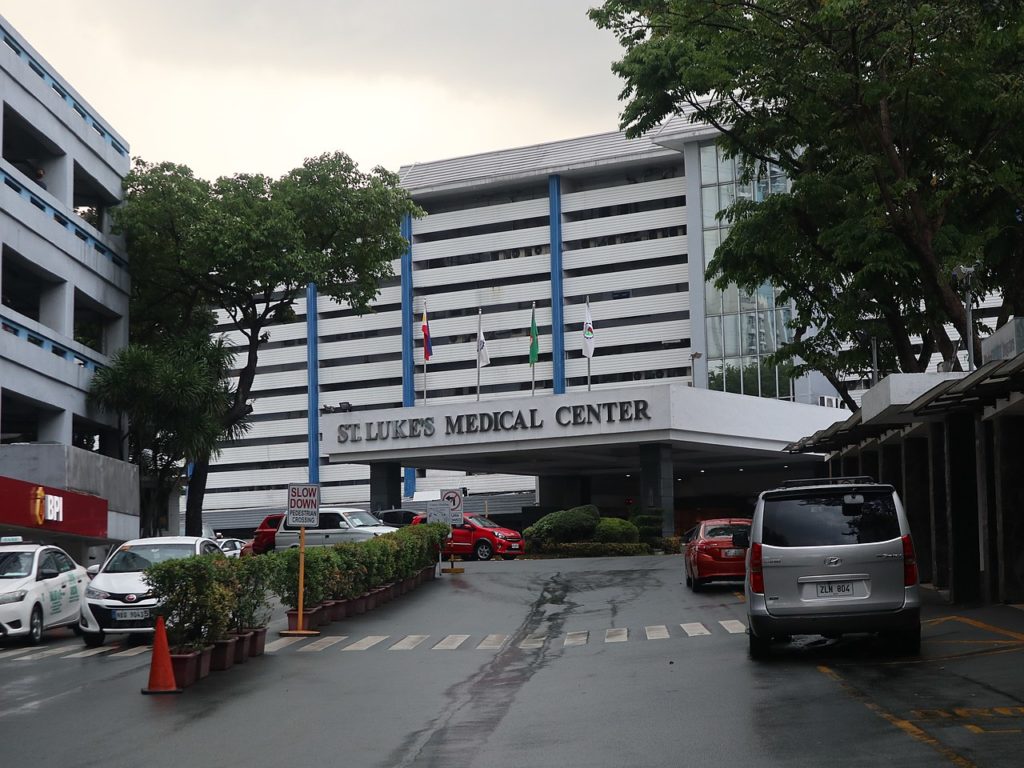 St. Luke's Medical Center is a renowned healthcare institution located in Quezon City, Metro Manila, Philippines, with an additional facility in Taguig's Bonifacio Global City. Established in 1903 by American Episcopalian missionaries, it has evolved into a leading and respected non-profit healthcare organization in the country. The institution's rich history, core values, and commitment to excellence have solidified its reputation as a healthcare leader in the Philippines.
Mission and Vision: St. Luke's is guided by a mission to provide compassionate, patient-centered care with a commitment to excellence and innovation. Its vision is to be an unparalleled leader in patient care, clinical outcomes, research, and education. This commitment is underscored by its core values of integrity, healthcare excellence, accountability, responsibility, and teamwork.
Facilities: St. Luke's operates two state-of-the-art hospitals, one in Quezon City and another in Taguig's Bonifacio Global City. These facilities are equipped with cutting-edge technology and boast a combined total of 1,146 well-appointed rooms, ensuring that patients receive the highest level of comfort and care. The hospitals are designed to offer a restorative environment for healing and recovery.
Accreditations and Affiliations: St. Luke's Medical Center holds prestigious international accreditations and affiliations, including recognition by the Joint Commission International (JCI) and Germany-based accrediting body Temos. These accolades reflect the institution's commitment to maintaining world-class medical standards. St. Luke's was the first hospital in the Philippines to receive JCI accreditation, a testament to its dedication to quality healthcare.
Specialized Services: St. Luke's provides a wide range of specialized medical services and boasts 12 institutes dedicated to various medical disciplines. These include advanced treatments such as Robotic Surgery, Transcatheter Aortic Valve Replacement (TAVR), CryoConsole System for Atrial Fibrillation, and Hyperthermic Intraperitoneal Chemotherapy (HIPEC) for peritoneal carcinomatosis. The institution is also at the forefront of reproductive medicine with the only hospital-based In-Vitro Fertilization (IVF) unit in the Philippines.
Research and Innovation: St. Luke's is committed to advancing medical science through its Research and Biotechnology arm. It has developed molecular diagnostic tests that elevate the standard of healthcare in the country. The institution also uses advanced technology like the TrueBeam system, Thulium Laser, and Gallium-68 (Ga-68) PET imaging for precision diagnostics and treatment.
Education and Training: St. Luke's plays a crucial role in educating future medical professionals through its accredited residency and fellowship training programs. The St. Luke's Medical Center College of Medicine-William H. Quasha Memorial (SLMCCM-WHQM) provides scholarships and international clinical observerships, fostering the development of competent and compassionate healthcare professionals.
Patient-Centered Approach: St. Luke's emphasizes patient experience, with Patient Experience Navigators available to assist patients and their families with medical and personal concerns. The institution consistently aims for good clinical outcomes, patient safety, a superior patient experience, and financial viability.
St. Luke's Medical Center stands as a symbol of top-tier healthcare in the Philippines. It continues to be the hospital of choice for both local residents and medical travelers, fulfilling its mission to provide compassionate, world-class healthcare services.
3. Vinmec Times City International Hospital, Ha Noi, Vietnam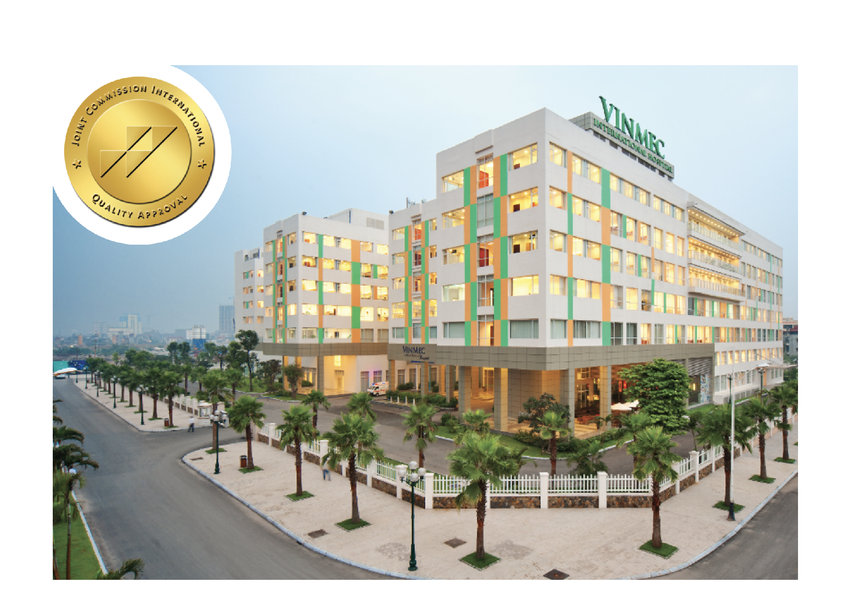 Vinmec Times City International Hospital, situated at 458 Minh Khai Street within the Times City Urban Area in Hai Ba Trung, Hanoi, Vietnam, stands as a prominent healthcare institution in the region. The hospital has gained recognition and praise for its exceptional services and standards.
This 500-bed hospital is known for its commitment to providing high-quality healthcare services to patients, both local and international. One noteworthy distinction is that Vinmec Times City International Hospital is the first general hospital in Vietnam to earn accreditation from the Joint Commission International, a globally recognized leader in healthcare certification. This accreditation underscores the hospital's dedication to upholding international standards of care and patient safety.
The hospital boasts a team of experienced medical professionals, including both Vietnamese and international physicians, who specialize in a wide range of medical fields, such as cardiology, women's health, cancer treatment, and orthopedics. This diverse expertise allows Vinmec Times City to offer high-acuity care across various specialties.
In collaboration with VinUniversity, a part of the Vingroup, Vinmec Times City plays an essential role in training the next generation of physicians and nurses, further contributing to the advancement of healthcare in Vietnam.
Patient feedback and reviews are overwhelmingly positive, with numerous individuals expressing their satisfaction with the hospital's services. Many patients have praised the high quality of care, competency of the medical staff, and the hospital's compliance with international standards. The hospital's staff is often commended for their professionalism and ability to communicate effectively in English, making it a particularly appealing choice for foreigners in need of medical attention in Hanoi.
Vinmec Times City International Hospital provides a range of amenities and services to enhance the overall patient experience. These amenities include a café, family accommodations, access to international newspapers, parking facilities, a pharmacy, in-room phones, private patient rooms, a restaurant, in-room safes, translation services, and in-room televisions.
Vinmec Times City International Hospital is one of the best healthcare institutions in Vietnam, recognized for its commitment to international standards, a dedicated team of medical professionals, and a patient-centric approach. With a focus on delivering world-class care and continuous improvement, the hospital is a trusted choice for both local and international patients seeking high-quality medical services in Hanoi.
4. Samitivej Sukhumvit Hospital, Bangkok, Thailand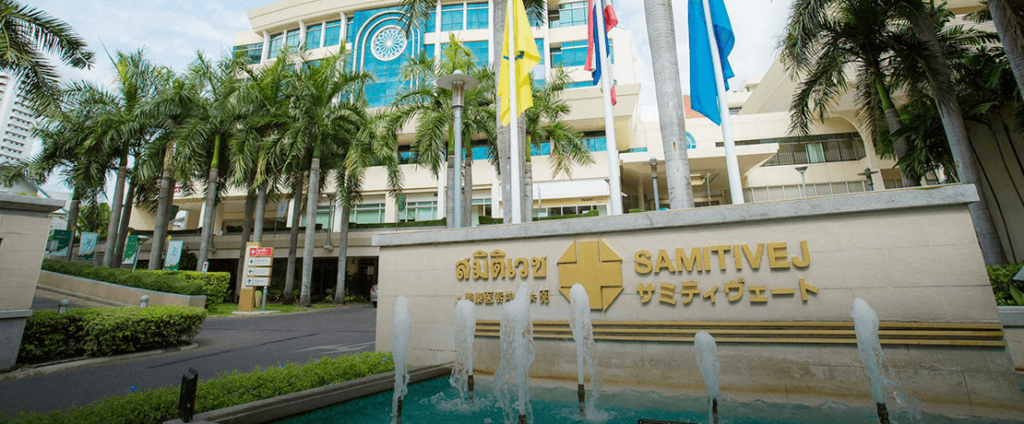 Established in 1979, Samitivej Sukhumvit Hospital is a prominent private healthcare institution located at 133 Sukhumvit 49, Klongtan Nua, Vadhana, Bangkok, Thailand, with a postcode of 10110. The hospital is part of the Bangkok Dusit Medical Services (BDMS) group, one of the leading and trusted private healthcare service providers in Thailand and ASEAN countries.
World-Class Medical Care: Samitivej Sukhumvit Hospital has earned international acclaim for its commitment to providing high-quality healthcare services. It holds accreditation from the Japan Council for Quality Health Care (JCQHC), making it the first hospital outside Japan to receive this prestigious award. Additionally, the hospital is accredited by the Joint Commission International (JCI), further attesting to its commitment to excellence in healthcare.
Expert Medical Team: The hospital boasts a team of over 400 internationally recognized doctors and surgeons, all experts in their respective fields. Complementing the medical team are highly trained and qualified nurses and paramedics who are available 24/7 to provide top-notch care. For pediatric care, a specialized team of 150 pediatricians offers tertiary care, including complex treatments, specialized surgeries, and emergency care.
State-of-the-Art Infrastructure: Samitivej Sukhumvit Hospital has a capacity of 275 beds, offering a wide selection of rooms to suit various budgets. The hospital also features a range of amenities, including a food court, restaurants, cafes, bookstores, convenience stores, and shops for babies and children. It even has a hair studio, multiple banks, and ATMs for added convenience. A 24/7 pharmacy ensures that patients have access to medications at any time.
Prime Location: Situated in the heart of Bangkok, the hospital's strategic location is easily accessible from both Suvarnabhumi International Airport (25 minutes away) and Don Mueang International Airport (30 minutes away). The hospital's proximity to these major airports makes it a convenient choice for medical travelers. Numerous hotels and apartments, ranging from 2 to 5 stars and starting from USD 17 per night, are available in the vicinity for patients and their families.
International Patient Support: Samitivej Sukhumvit Hospital takes pride in offering comprehensive support to international patients. The hospital's multilingual workforce ensures effective communication, with services such as interpreters and immigration assistance readily available. A dedicated correspondence team assists patients in finding the right physician or specialist and navigates the complexities of insurance logistics to ensure patients receive entitled benefits.
A Legacy of Excellence: Samitivej Sukhumvit Hospital has a rich history of providing global standards of care to both local residents and expatriates living in Thailand. It has emerged as a leading center for medical tourism in Southeast Asia, drawing patients not only from the Western expatriate community but also from China, South Asia, and the Middle East.
Awards and Recognitions: The hospital's commitment to excellent care and innovation has earned it several accolades, including recognition as a Mother and Baby Friendly Hospital by WHO and UNICEF in 1999. It also received the Prime Minister Award for the Most Recognized Service in 2004 and holds hospital accreditation from the Hospital Accreditation Board of Thailand and JCI accreditation.
Samitivej Sukhumvit Hospital stands as a beacon of healthcare excellence in Bangkok, delivering compassionate care, cutting-edge medical technology, and a patient-centric approach to healthcare for over four decades.
5. St. Carolus Hospital: A Century of Excellence in Jakarta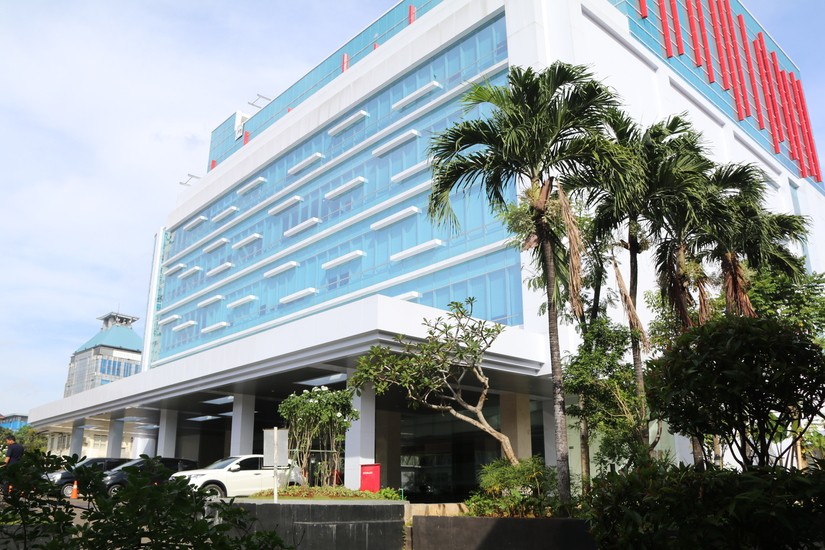 St. Carolus Hospital, situated in the heart of Central Jakarta, stands as a beacon of healthcare excellence with a rich history dating back over a century. Since its inception, this venerable institution has evolved into a respected healthcare provider, combining traditional values with modern innovations to serve the diverse needs of the community.
A Century of Service: Founded in 1919, St. Carolus Hospital has grown from its humble beginnings to become a vital healthcare hub in Jakarta. It stands as the second oldest hospital in the city, having transformed over the years into a modern healthcare facility while preserving its core values.
Patient-Oriented Services: What sets St. Carolus Hospital apart is its unwavering commitment to patient-centered care. Under the leadership of President Director Endrotomo Sumargono, the hospital has made significant investments in its nursing department. Approximately half of its 1,400 dedicated employees are skilled nurses, a testament to the hospital's emphasis on nursing excellence. Moreover, St. Carolus Hospital aims to further expand its nursing workforce to ensure that patient care remains at the forefront of its services.
Innovation in the Face of Challenges: St. Carolus Hospital has not only adapted to the changing healthcare landscape but has also proactively responded to challenges, such as the COVID-19 pandemic. In April 2020, the hospital initiated the Micro Treatment Facility program to address the growing demand for medical services during the pandemic. This innovative program involved the construction of semi-permanent screening and medical facilities designed to be quick to construct, scalable, and adaptable to various locations. These structures, built with a focus on modularity, durability, and sustainability, have not only served as screening facilities but have demonstrated the hospital's commitment to innovation and community support.
Community Engagement: Beyond its core healthcare services, St. Carolus Hospital actively engages with the community. It remains a trusted healthcare partner for the residents of Central Jakarta and envisions itself as a family health partner with a global standard in medical and nursing services. The hospital's mission extends to restoring patient health with compassion, regardless of religion, race, ethnicity, class, or social status.
Future Expansion: St. Carolus Hospital has ambitious plans for the future, aiming to expand its services while staying true to its traditional values. As it celebrates a century of service, the hospital envisions becoming an even more integral part of Jakarta's healthcare ecosystem, guided by its vision to provide international standard medical and nursing services supported by cutting-edge medical and digital technology.
St. Carolus Hospital represents the perfect blend of tradition, compassion, innovation, and excellence in healthcare. As it continues to evolve and meet the changing healthcare needs of the community, it remains a symbol of hope and healing in the heart of Jakarta.
6. Asan Medical Center in Seoul, South Korea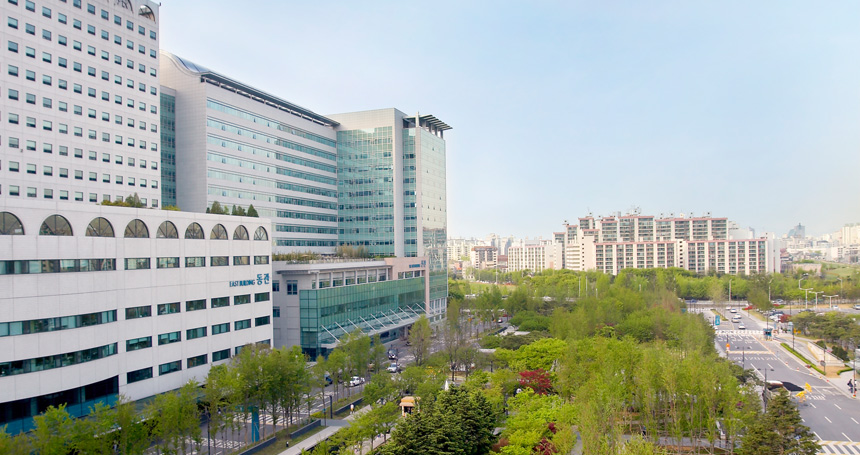 Asan Medical Center, formerly known as Seoul Jungang Hospital, stands as a testament to the vision of its founder, Chung Ju-yung, and has become a cornerstone of healthcare in Seoul, South Korea. Established in 1989, this world-renowned institution has continually evolved and expanded to become a leading tertiary referral hospital and the teaching hospital for the University of Ulsan College of Medicine.
History and Growth:
The hospital was inaugurated on June 23, 1989, under its original name, Seoul Jungang Hospital, and later rebranded as Asan Medical Center on April 27, 2002. It has grown exponentially since its inception and now boasts a staggering 2,732 licensed beds and a total floor area of approximately 280,000 square meters, making it the largest hospital in Korea.
Global Recognition:
Asan Medical Center's commitment to excellence in healthcare is widely recognized both nationally and internationally. It has consistently earned accolades for its outstanding performance. Notably, Newsweek ranked Asan Medical Center as the world's 29th best hospital and Korea's No.1 hospital for five consecutive years (2019-2023). In 2023, the hospital achieved remarkable rankings in various clinical specialties, including endocrinology, urology, gastroenterology, cancer care, and neurology, cementing its status as a global leader in healthcare.
Medical Expertise:
With 56 clinical departments and divisions, as well as 50 specialized centers and departmental specialist clinics, Asan Medical Center offers comprehensive healthcare services across a wide range of medical fields. Notable centers within the hospital include the Diabetes Center, Organ Transplantation Center, Heart Institute (dedicated to cardiovascular care), and the Cancer Institute (offering multidisciplinary cancer care). The Children's Hospital provides specialized care for pediatric patients aged 0 to 18.
Innovation and Technology:
Asan Medical Center has been at the forefront of technological innovation in healthcare. It implemented its own internally developed computerized systems, such as PACS (picture archiving and communication system) and OCS (order communication system), to streamline and enhance patient care. In 2012, the hospital launched a mobile website to provide convenient smartphone-based services, including appointment scheduling and access to test results.
Global Outreach:
The hospital extends its expertise beyond its borders through charitable medical services. Medical teams from Asan Medical Center regularly visit nations in Asia, such as Cambodia, Laos, and Vietnam, as part of the "Asan in Asia" project. This initiative aims to elevate medical standards in the region, offering training and support for medical professionals.
Legacy and Affiliates:
The Asan Foundation, founded by Chung Ju-yung, played a pivotal role in the establishment and growth of Asan Medical Center. It reflects Chung Ju-yung's commitment to improving healthcare for the least privileged members of society. The University of Ulsan College of Medicine and the Asan Institute for Life Sciences are integral parts of the hospital's network, furthering education and research in the field of medicine.